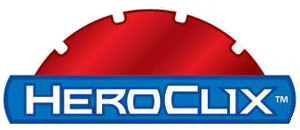 About Our Tournaments
Our HeroClix tournaments take place on Saturdays at 12:00 noon here at our store. There's always a prize for the winner but the goal is to have fun and learn the game. In addition to the sealed, organized play tournaments such as we feature a different theme each week and often include Golden Age (allows any Clix since the game was created) or Card Age (allows any Clix created after cards were added to the game) so you can bring out the old pieces as well as the new.
Check out our schedule at left to see what this week's theme is, build your team, register on the event system and come out and join us. The more, the merrier!